LED Canopy

Standard Series

Emium's square canopy fixtures are commercial grade units that utilize high powered LEDs with efficient optical control.

Learn More Spec Sheet

LED Canopy

Round Series

Emium's round canopy fixtures are commercial grade units that utilize high powered LEDs with efficient optical control.

Learn More Spec Sheet

LED Canopy

Gas Station Series

Emium's gas station canopy fixtures are commercial grade units that utilize high powered LEDs with efficient optical control.

Learn More Spec Sheet

LED Post Top

Standard Series

The post top provides a unique, scalable lighting solution targeted for 8' to 20' mounting heights.

Learn More Spec Sheet

LED Area Light

Standard Series

The newest series of our LED Area Lights. Uniform light distribution and excellent LED lumen maintenance rate.

Learn More Spec Sheet

LED Wall Packs

Standard Series

The newest series of our LED Standard Wall Pack. Now available in more sizes and wattages ranging from 17W to 125W.

Learn More Spec Sheet

LED Wall Pack

Angle Adjustable Series

The Emium slim angle adjustable wall pack is available in four wattage options for a variety of applications.

Learn More Spec Sheet

LED Wall Pack

Full Cut-Off Series

The newest series of our LED Full Cut-Off Wall Pack. Now available in two sizes and Wattages ranging from 27W to 100W with user selectability.

Learn More Spec Sheet

LED Flood Lights

Standard Series

The newest series of our LED Flood Lights aims to provide customers with a product that is economical, efficient, and flexible. The low-profile and stylish exterior design can be well integrated into various architectural environments.

Learn More Spec Sheet

LED Flood Lights

Adjustable Series

The newest series of our LED Flood Lights aims to provide customers a product that is economical, efficient, and flexible. The low-profile and stylish exterior design can be well integrated into various architectural environments.

Learn More Spec Sheet

LED Screw-in Bulbs

Omni-Directional Series

This Emium LED Screw-in Bulb is available in a variety of sizes, lumen output levels, and it is also CCT adjustable to suit any application.

Learn More Spec Sheet

LED Screw-In Bulbs

Bollard Series

This Emium LED Screw-in Bulb are equipped with special heat-dissipation design for higher energy efficiency and longer lifespan.

Learn More Spec Sheet
LED Stadium Light

Round Series

The Emium Stadium Light delivers the ultimate visual clarity, control, and dependability required to provide the best player and fan experience.

Learn More Spec Sheet

LED Stadium Light

Square Series

The Emium Stadium Light transports you to the home turf of your favorite sports team or concert. Guarantee a unique experience for fans.

Learn More Spec Sheet

LED Refrigerator Case Light

Standard Series

Emium's LED Refrigerator Case Light Features a high shock & vibration resistant body, with polycarbonate lens.

Learn More Spec Sheet
Batten Series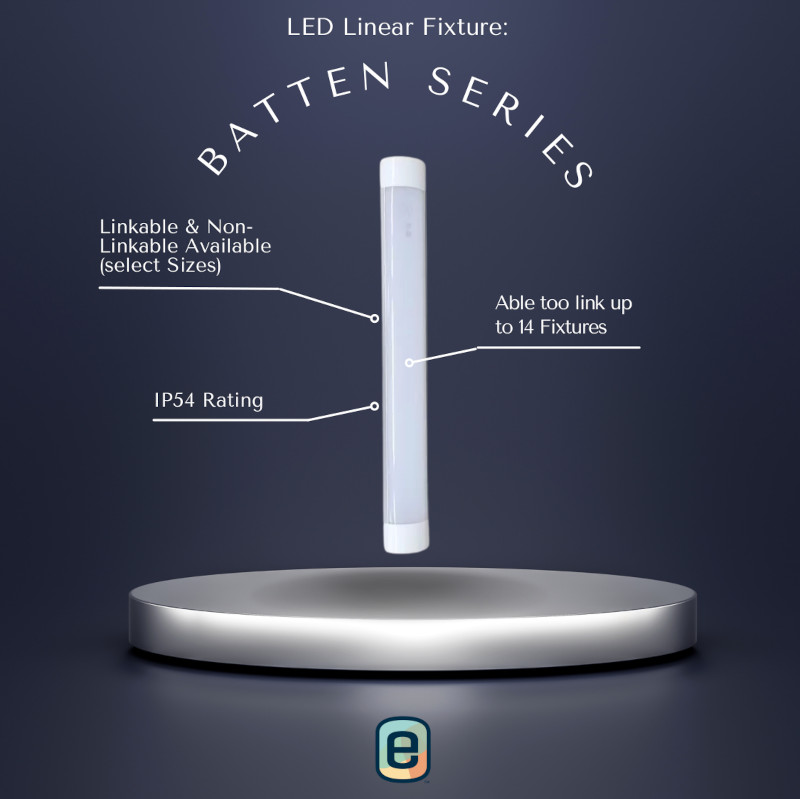 ---
Emium's LED linear batten fixtures offer a cost-effective, energy-efficient lighting crossover solution. Combining aesthetic appeal, quality, and professional level performance for a wide variety of environments and applications.
Our slim profile battens allow for uniform and spot free illumination throughout various rooms and applications.
Select variations have linkable capabilities that allow you to connect up-to 14 2ft fixtures together. Our 4ft units allows linking up-to 6 units.
Features
Reduces energy consumption and operating costs by 70% or more
Maintenance free operation - lasts up to 20 times longer than conventional lighting
IP54 Rating
Estimated 50,000-hour LED lifespan
Can be series linked or installed independently for stand-alone applications