Ceiling Panels and Troffers

LED Edge Lit Panels

Smooth surface LED panels for replacing fluorescent fixtures in drop ceilings.

Learn More Spec Sheet

Ceiling Panels and Troffers

LED Backlit Panels

Beautiful, modern designed panel light fixtures for use in drop ceiling applications.

Learn More Spec Sheet

Ceiling Panels and Troffers

LED Troffer Fixtures

Modern troffer design fixture for replacing fluorescent fixtures in drop ceilings.

Learn More Spec Sheet

Ceiling Panels and Troffers

LED Troffer Retrofit Kit

LED conversion kit for retrofitting fluorescent T8 troffer fixtures. Wattage and Color Temperature Adjustable.

Learn More Spec Sheet

High Bay Fixtures

Linear LED High Bay

Frosted white acrylic lens LED Linear High Bay replaces traditional metal halide and linear fluorescent fixtures in warehouses, manufacturing facilities, and other high ceiling environments.

Learn More Spec Sheet

High Bay Fixtures

Smart Linear LED High Bay

The LHB Smart Linear High Bay offers a Plug-in Sensor/Control option, which provides wireless motion sensing, dimming, and daylight harvesting capabilities.

Learn More Spec Sheet

High Bay Fixtures

EL-GL Halo High Bay (100-240W)

15,000-36,000 lumen LED tplaces linear HO fluorescent or HID fixtures in high mount commercial, industrial, and retail applications.

Learn More Spec Sheet

High Bay Fixtures

EL-AC Monarch High Bay (150-650W)

21,000-110,000lm LED High Bay features ultra-high lumen projection, high ambientoperating temperature rating and easy-add control features.

Learn More Spec Sheet

Downlight Fixtures

Commercial Downlight Fixtures

For new construction in retail spaces, corporate and municipal common areas, hotels, restaurants, health clinics, entertainment venues, and other similar spaces.

Learn More Spec Sheet

Downlight Fixtures

TJ Series Downlights

For retrofitting fluorescent fixtures in retail spaces, corporate and municipal common areas, hotels, restaurants, health clinics, entertainment venues, and other similar spaces.

Learn More Spec Sheet

Linear Fixtures

Smart Linear Task Light

The STP Series LED Linear Task Light is ideal for factories, warehouses, commercial processing areas, and a variety of other task-focused spaces.

Learn More Spec Sheet

Linear Fixtures

Linear LED DLC Fixture

Cross functional linear LED fixtures with unlimited applications including commercial task lighting, retail highlighting, and area lighting for harsh industrial environments.

Learn More Spec Sheet

Linear Fixtures

Linkable Integrated Linear Fixture

This compact and efficient LED fixture provides excellent lighting for processing, repair and service work areas requiring a high degree of visual clarity.

Learn More Spec Sheet

Linear Fixtures

Linear LED Strip Light

Great LED light fixture for commercial/industrial LED task applications, repair and maintenance shops, and stock area applications.

Learn More Spec Sheet

Linear Fixtures

Linear LED Wrap Light

Aesthetically pleasing multi-functional surface or suspension mount area light with prismatic acrylic lens.

Learn More Spec Sheet

LED Refrigerated Case Luminaire

LED Refrigerated Case Lights

IP65, UL, and DLC listed linear fixtures available with options for length, lens, color temperature, and wiring configuration for produce and packaged goods display cases.

Learn More Spec Sheet

Screw-In Retrofit Lamps

High Power LED "Corn" Lamps

E39 mogul and E26 medium base bulbs designed to replace metal halide and high-pressure sodium lamps.

Learn More Spec Sheet

Screw-In Retrofit Lamps

Screw-In High Bay Retrofits

Designed to retrofit existing metal halide and high-pressure sodium high bay luminaires up to 400 watts.

Learn More Spec Sheet

T8/T5 LED Tube Lamps

Poly Carbonate/Aluminum T8 LED Lamps

Type A and B LED tubes for retrofitting T8 and T12 fluorescent luminaires. 2 ft., 3 ft., 4 ft., and 8 ft. lengths. G13, R17D and FA8 end connectors.

Learn More Spec Sheet

T8/T5 LED Tube Lamps

Nano-Plastic T8 LED Lamps

Type B LED tubes for retrofitting T8 fluorescent luminaires.

Learn More Spec Sheet

T8/T5 LED Tube Lamps

T5 LED Lamps

Type A or B LED tubes for retrofitting T5 standard or T5 HO fluorescent luminaires.

Learn More Spec Sheet

High Bay Retrofit

Low-Power LED Light Engine Retrofit

100-277VAC, 30-80W - Replaces HID lamps in interior or exterior area light fixtures.

Learn More Spec Sheet

High Bay Retrofit

Hi-Power LED Light Engine Retrofit

100-277VAC, 100-480W - Replaces HID lamps in interior or exterior area light fixtures.

Learn More Spec Sheet

High Bay Retrofit

High Voltage Input LED Light Engine Retrofit

200-480VAC - Replaces HID lamps in interior or exterior area light fixtures.

Learn More Spec Sheet

PL G23/24/2G11

PL - G23/G24 Lamps

Plug-in LED lamps for retrofitting fluorescent downlights and sconces.

Learn More Spec Sheet

PL G23/24/2G11

PL - 2G11 Lamps

4 pin plug-in LED lamps for retrofitting fluorescent sconce and utility fixtures.

Learn More Spec Sheet
Linear Fixtures

Continuous Run LED Retail Aisle Fixture

LED aisle fixtures are designed to light supermarkets and other commercial retail environments requiring long continuous runs of lighting.

Learn More Spec Sheet

LED Refrigerated Case Luminaire

LED Refrigerated Case Lights

IP65, UL, and DLC listed linear fixtures available with options for length, lens, color temperature, and wiring configuration for produce and packaged goods display cases.

Learn More Spec Sheet

Temporary LED Work Light Fixture

LED Work Light Fixture

Portable IP65, bright and durable ceiling-mounted fixture that provides lighting for temporary job site applications.

Learn More Spec Sheet

Luminaire Level Lighting Controls

Fixture Integrated IoT Sensor and Controller

Add functionality and lot readiness to your luminaires with an easy to install system.

Learn More Spec Sheet
Emium Halo High Bay (100-240W)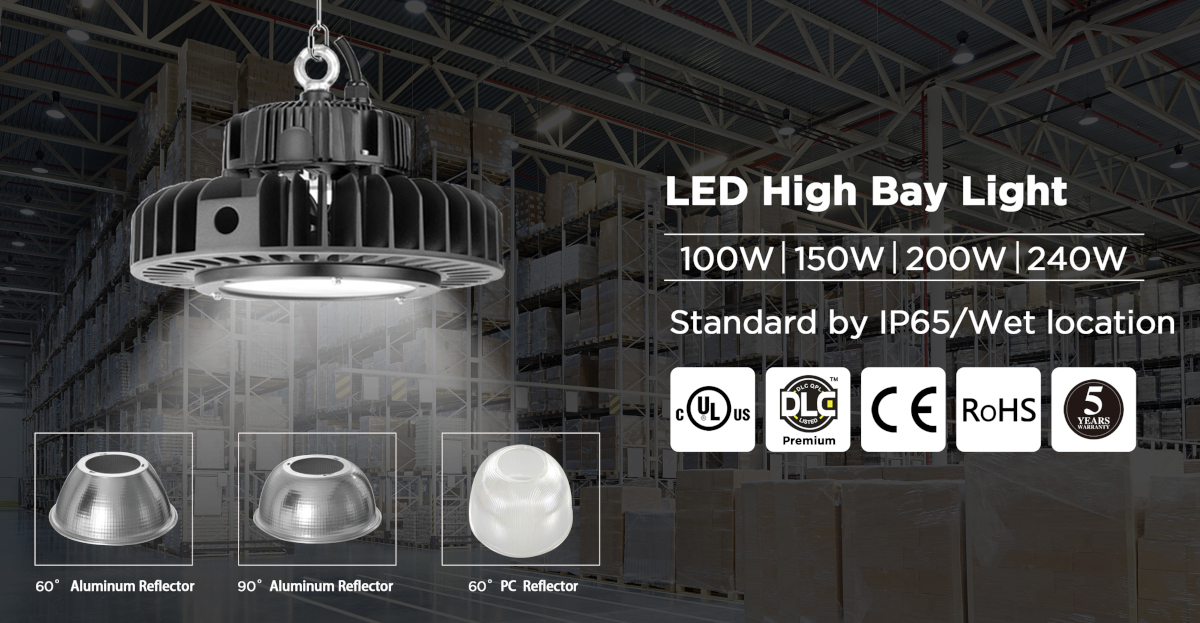 ---
Emium GL Halo High Bay fixtures are the ideal choice for manufacturing and processing facilities, cold storage facilities, sports arenas, distribution centers, and other similar environments requiring extraordinary performance and durability.
Photometric studies and analysis show that the performance of our 100W LED GL fixture exceeds the illumination from a 400W metal halide HID high bay…using only 25% of the energy.
Their IP65 rating makes them impervious to the elements (water, dust, insects, etc.).
The Emium GL Halo High Bay is engineered to install very simply and make the transition from HID or fluorescent lighting to LED very cost-effective.
Reduce energy consumption and operating costs by 70% or more
Maintenance free operation – lasts up to 10 to 20 times longer than conventional lighting
No UV or IR and no RF interference
Environmentally friendly – fully recyclable, no mercury or other hazardous material
Listed on the DLC Qualified Products List
10 year warranty
Certifications & Ratings:
RoHS, ETL, CE, FCC
DLC – Designlights Consortium
IP 65
Features & Benefits:
CRI > 84 Ra
L70 rated for >100,000 hours
10 year full performance warranty
Input Voltage 100-277VAC or 200-480VAC
Operating Temperature -30°F to 150°F
Over voltage/current/temperature shut down with auto recovery
Dimmable option 0-10V
Maintenance free
Cast AL1070, 99.7% aluminum housing
Multiple beam angle and color temperature options
Other options include black or white finish, protective wire guard, frosted lens, reflector housing