Emium Introduces Plug & Play LED T5 Alternative to T5 Fluorescent Lamps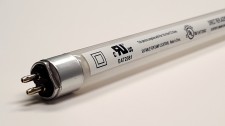 June 28, 2016
New low wattage T5 LED lamps make replacing Fluorescent T5 tubes affordable and easy
For well over ten years, T5HO fluorescent lamps have provided the best lumen output per dollar solution for lighting warehouses and manufacturing facilities. With the introduction of Emium's new low cost, led-screw-inLED T5 lamp, a major shift in favor of replacing T5HO fluorescent lamps with the energy saving LED version is beginning to take shape.
The Emium T5 lamp uses just 25 watts of energy and produces 3300 lumens, or 132 lumens per watt. The new 25-watt LED lamp allows for a cost effective and easy retrofit of existing high bay fixtures that currently utilize the 54 watt T5 fluorescent lamp to deliver a 53% reduction in energy consumption. Retrofitting T5HO fixtures with the LED T5 is as easy as swapping out old fluorescent tubes with new ones. No wiring is necessary.
Unlike fluorescent T5HO lamps which project light in all directions, the LED version of this lamp projects its light in one direction, at a 150° beam angle, to deliver higher foot candles per lumen to the targeted work areas.
The new T5 is available in 4000K and 5000K color temperatures with a color rendering greater than 80. It is also Design Light Consortium (DLC) listed, which mean that it qualifies for many of the utility rebates that are available for such retrofit projects. The combination of lamp affordability, high electricity rates, and attractive utility rebates can typically provide a payback for such an investment in 8-16 months.
The lamp has a 50,000 hour rated life and comes with a 5 year warranty.
If you would like more information about this topic, please contact Michael Cantarutti at 224.735.3435 or email at info@emium.com.