Emium Lighting Delivers LED Temporary High Bay Lighting to the Job Site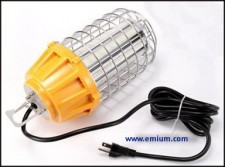 January 9, 2017
Emium LED fixture outshines traditional construction site lighting with a bright, durable, cost effective alternative, while reducing the power demand by up to 80%.
Emium Lighting announces another first to market LED Light fixture that is sure to please construction project planners, managers, and contractors alike. The new product is a temporary construction site light. It is a hanging ceiling fixture that is very bright, durable, and consumes a small fraction of the energy of traditional project lighting.
Unlike permanent lighting, these fixtures are installed on a job site for a limited amount of time, and then moved on to the next job once the permanent fixtures are installed. This robust fixture features a metal lamp guard, tough poly-carbonate housing, and an IP65 protection rating, making it suitable for damp or wet locations. The product design employs the latest in high-efficiency LED lighting technology, excellent heat dissipation properties, and voltage surge protection to deliver long life and superior performance.
FEATURES
Exceptionally bright 6,600 or 11,000, lumen output
Up to 80% energy savings compared to similar traditional light sources
Available in 60W and 100W, 100-300VAC
Includes 9' grounded cord and 120V plug
Integrated carabiner type hook for quick and easy installation
Metal guards provide safety and durability
IP65 waterproof rating protects fixture in harsh outdoor applications
6,000V high voltage surge protection
50,000 hour rated life
5 year warranty